Sunday, October 29, 2006
Quick Notes on 'Study' Week
As is the norm, we had a week off to study for exams after classes. Usually not much studying is done during this week (took off to Queensland last semester), and being on an exchange was twice the excuse to not open a single book again.
The break was off to a good start with the trip to Mt. Kosciuszko and some more rest was needed after this so Beck and I took off to her condo on Philip Island for a few days. This was my third trip to the island and was again different from the others. I like that I made three visits, it started to feel like I had been making visits all my life.
It was a very low key and relaxing few days. We visited the Nobbies which was cool because it was so windy and the waves were nice and violent and the blowhole was blowing more than I have ever seen before.
Since it was still spring, the weather could be hit and miss. I would say we had a little of both - it was sunny, but not very warm. Still, we hung out at the beach for a bit, but the only wave I rode was
this one out front of a surf shop
.
After hanging out and chilling to the max, we arrived back home in the midst of preparations for the biggest Halloween party ever seen by most people who attended.
The party was taking place at our house, and had been in the planning stages for weeks. The word had gotten around, it was on a convenient day (Saturday the 28th), flyers were passed out and invites had been given as freely as candy to trick-or-treaters.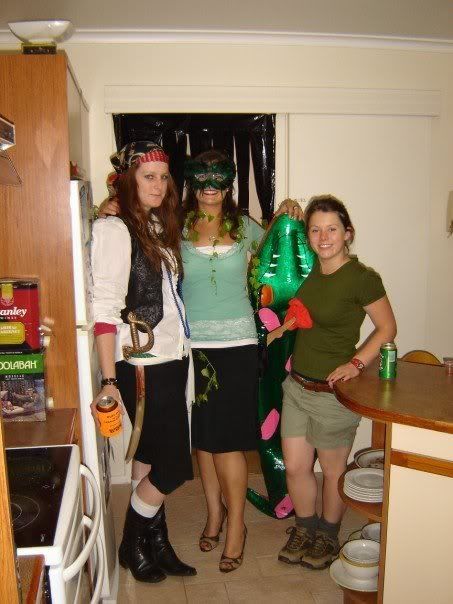 The party was to be in the style of a 'North American university/college' where everyone pays 15$ for (hopefully) all they can eat and drink. This would be fun for the Americans because it was like home, and fun for the Europeans because they hadn't attended such an event before.
Our budget started at around 700$ but the buzz was loud enough that we bumped that up to over 1000$. So we were all a bit nervous about losing money. We bought decorations, and had some posted from home. Arlen hooked us up with 100+ free sausages, we bought 20+ slabs of beer, boxes of wine and prizes for costumes.
Everything was going smoothly. I took my post at the BBQ and the people started showing up. I have to say I was extremely impressed with everyones effort for costumes. There was the quota 'Beerbarians' from the US, dracula, characters from movies, a cupcake, pirate, cupid, a box of wine and the most politcally incorrect costume of the season. Steve Irwin with a stingray barb in his chest and so many others.
In the end, the box of wine took first place for best costume while Cupid and Where's Waldo/Wally tied for second place.
By the time the last people left, drinks were just finished, a bit of food was still sitting around and, thanks to the almost 100 people that came out, the 7 or 8 of us who invested in the party each made a 6$ profit.
The neighbours behind us are a young couple and said it was cool to have a party, the other side of us is students, and the other side is an old lady who, when I mentioned the party, said 'I can barely hear you talking to me, dont worry about the noise, Ill be fine. You kids have fun!'. No police showed up either which is a nice change from similar parties in Canada.
Yes, the party was perfect. I have to give 98% of the credit to housemates Tara, Sabrina and Ashleigh. I will put you in touch with them if you are planning a similar party.
The party was talked about for weeks after, and is probably still mentioned by everyone who attended, which I believe gives it the status 'Legendary'.
Monday, October 23, 2006
Conquering Mt. Kosciuszko: Part 2 - Bagging the Summit
Sunday, October 22, 2006
Conquering Mt. Kosciuszko: Part 1 - Getting There
Monday, October 16, 2006
Beach Club Trip to Wilsons Promontory
Monday, October 02, 2006
Sydney: Part 2 - Harbour and Beach
Thursday, September 28, 2006
Sydney: Part 1 - Mountains and City
Monday, September 25, 2006
"Canberra - The Nations Capital"
Sunday, September 24, 2006
Beach Club Trip to Apollo Bay
Monday, September 18, 2006
The Great Ocean Road
Sunday, September 10, 2006
Beach Club Trip to Queenscliff
Friday, August 11, 2006
Mt. Buller Ski Trip